Post by Stella Star on Jun 13, 2020 21:02:43 GMT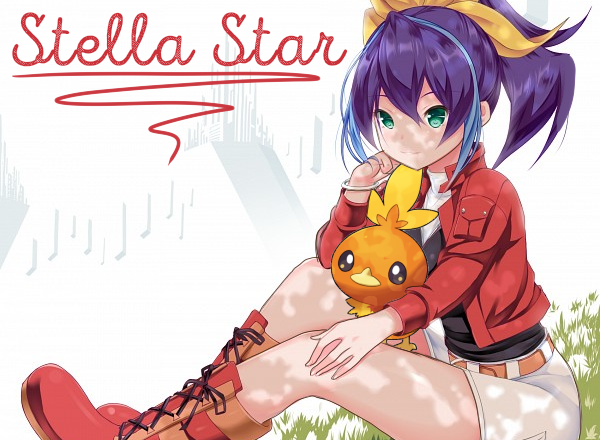 Stella Minerva Star



Age

18




Birthday

07, 23, 2001




Gender

Female




Pronouns

She/Her




Orientation

Demisexual, Demiromantic




Faction

League




Class

Trainer




Rank

New Trainer




Occupation

Researcher




Hometown

Fallarbor Town, Hoenn




Current Residence

"Traveling"






Tell us a little about yourself. How would you describe yourself?


Stella gulped as she sat in front of the interviewer, she never liked these kinds of moments due to her crippling stage fright that kept her from being on camera. Most of these interviews were personal and asked questions that weren't necessary, but she needed her trainer card. She clutched her skirt as her leg shook, she was just about to leave to train her Torchic, Blaze, but it seemed as though it wasn't her day to leave. She couldn't stand looking at cameras, she knew any wrong word and her reputation was burned. She simply wanted to leave, but now she was now faced with an issue, either leaving in the middle of the interview or doing the interview without an issue. She didn't want to be here, but knew that leaving was rude. The interviewer was also quite persistent, even holding the microphone in her face.

She had a complete look of worry upon her face, her life was about to be advertised by the entire world, though she was private about it, she didn't want to share too much. However the interviewer kept asking her questions, but Stella couldn't find the right words. "Oh! Um...would you just look at the time, I should probably get go -" But before she could finish her sentence a bright light appeared out of her pocket, the light forming into a tiny fluff with two legs, but no arms at all. Stella's face lit up as she picked up the tiny ball, her nerves calmed down as she held the chicken closely.<Heey back up buddy!!> The tiny ball of fluff screamed aloud at the interviewer who backed up a little bit.

"Blaze come on, don't scare the interviewer, they just want to know some info about me for our new trainer card." Stella said as she snuggled the pokemon close to her cheek, the Torchic doing the same back with more enthusiasm. "I'm sorry about Blaze, he just gets a little overprotective when I'm nervous. But I'm ready to talk now if you'll listen to me?" The interviewer nodded and this time sat down, though a tad further away this time, they didn't want to get scorched by the fire type. Stella held Blaze closely as she looked at the camera, she hated doing this but if her Torchic was with her she'd be fine. "I'm Stella Star and this is my partner Blaze. We've been together since I was a kid and I wouldn't have any other Pokemon next to me! I'm not the biggest fan of talking about myself, but Blaze here loves to be the center of attention. You should interview him. He has so much to say for such an adorable fire type." Stella smiled widely as she spoke fondly of her Pokemon.

Meanwhile Blaze started to kick its legs and let its voice be heard, saying its name several times in front of the camera, it was proud of the attention it wanted and wasn't embarrassed about it. <Over here over here, I'm super adorable!!> The fluff ball said aloud as the camera woman made sure to turn the camera onto the pokemon. Blaze was abandoned years ago by much bigger Combusken, and left in Fallarbor Town, or at least that is what it looked like to her father. Since then it had been by itself at least till Stella found him covered in soot, and nursed him back to health at the Pokemon Center.

"Hehehe, of course you'll keep getting camera time Blaze, how can you not with that face!"

She said with a smile as she loosened her grip on Blaze just a little, allowing him to relax more as well as she spoke. "We're both from Fallarbor Town and love to be around hot springs and beaches, Blaze here loves Tamato Berries and being around meadows. I love forests and oceans, especially Sootopolis City, the layout is so cool I wanna go back there eventually. I went once as a kid on a giant Wailord my grandfather owned, but since I've moved to this region I haven't had time to go back." She paused for a moment, and thought about if she should go on, and figured she'd been speaking enough. If i must describe myself then it would have to be compassionate, driven, I'm very stubborn but also relentless! I'm a little hot headed, well Blaze would say otherwise, but still. oh and i love food, and sweets but i try not to indulge in them too much." She said with a half smile as the interviewer said thank you for answering, though with all the talking they weren't sure who they were interviewing anymore.

Why are you interested in the class you've chosen?

Blaze looked up at Stella as she thought about the question, but Blaze clearly had his own answer. The camera panned down to the little chic as he was once again about to speak his mind, though this time Stella motioned for Blaze to be still, she loved hearing what he had to say, but this wasn't particularly something that he could answer. The interviewer nodded their head at the lack of Pokemon interaction, Stella smiled at Blaze as Stella didn't need help getting comfortable with this question. Simple. I want to see everything. Every pokemon, region, nurse, professor, gym battle, contest, whatever the pokemon world has to offer!" Stella lit up as she spoke to the interviewer about her choice, this caused them to push even further and ask for more details. Stella was sure she had answered the question, but it simply wasn't enough for the reporter, who somehow wanted more.

"Um well, let's see! I've always wanted to be a pokemon trainer, ever since I was a kid and finding Blaze here was more than enough motivation for me back home. I'm going to see the world, no, what I mean to say is me and Blaze are going to see the world!" She said enthusiastically as the interviewer nodded at her eagerly, happy with the response they'd been given. But, Stella was embarrassed at her enthusiasm, she was only that way around her Pokemon, and knew that the more she spoke, the more excited she'd become right there.

Why are you interested in training in Arciel? Why not another region?

"Oh...uhh…" Stella paused for a moment as she went back into her memories, she was originally from Hoenn, and it wasn't as though she hadn't truly trained back there, but more so she wasn't good at training back home. She'd been in Hoenn all of her life and had previously tried to compete in the Pokemon League Gyms, however it seemed as though her stage fright I had gotten the best of her, and thus she never made it past the first one. It was then she felt as though she should try somewhere else, maybe somewhere she had no ties to in order to try harder, so she packed her bags and came here. Although she wasn't going to tell the interviewer that at all, somethings were better left unsaid by those who didn't need to know at all.

As the interviewer waited for a response, Stella took out her pokeball and quietly returned Blaze back into it, for he'd fallen asleep in her arms waiting for this to end. She put the ball back in her backpack and nodded at the interviewer. "It's more so I just needed a change of scenery, ya know? I'm originally from Hoenn and while I will always love my home, sometimes you just need to find something new in the world to...umm push you, I suppose. If I had to pick another region...maybe Kalos or um Sinnoh, but for now this one is the one for me." Stella smiled as she placed her hands in front of her skirt, meanwhile the interviewer agreed and moved onto the next question.

What do you consider your best attributes? They can be physical, mental, social, or anything else.

"I'd say I'm a runner for sure! I'm traveling all the time and instead of using a bike I use the legs I was born with! I really love to run, Blaze on the other hand isn't a fan of all the walking we have to do, probably because he has such short legs. But don't say that while he's around he has such a bad temper sometimes." Stella giggled as she poked fun at her beloved pokemon, and knew he'd have a whole fit if he could hear her. But overall she loved him a great deal and wanted him to become stronger. She made him walk not only for his health, but so they could both be ready for a battle. Stella dreamed of battling each and every trainer she came across, at a simple chance to show everyone her genuine spirit. She could see the interviewer thinking of more questions, but Stella was wondering how any of this would lead to her trainers license. She remembered getting one back home had been simple once she finally got her Torchic, though it was mostly due to him inspiring her.

While their meeting was unconventional she still felt charged up once they met, for her dreams as a kid were crushed when both her parents never returned from their own. But, thanks to Blaze she's felt ready to take on anything, and start forgiving her parents and start living her life. "Oh, I can recite any data entry on or about a Pokemon!" The interviewer cocked their eye brow and questioned what exactly the young woman meant by this. "Oh, whoops, I should probably explain what I mean." Stella said with a big smile on her face as she shifted the weight of her feet and tilted her head a little bit. "Well my grandpa used to be a pokemon professor so whenever I acted up he kinda made me recite most of the hoenn pokedex, soon I just decided to learn about other regions Pokemon. So far it's been great to be able to spread knowledge, but sometimes when I don't use my Pokedex I feel like a snobby person ." Stella scratched the back of her head as the interviewer asked if there was anything else, but Stella shook her head. "I'm not so sure….oooh let's see. Oh! I like to think I'm easy to talk to! Well I try to be. Plus it's hard enough just being yourself." She said with one hand behind her back as she swayed left and right, ever so slightly.



What do you consider your worst attributes? Be honest, now!

"Ummm I can be a little impatient when it comes to people. If they say they'll do something then don't do it I usually end my trust in them. And that's all I'm gonna say on it." The interviewer nodded, but could see that something more was behind that statement. They tried to egg on getting an answer out of them, but Stella glared at the interviewer. She didn't want to keep thinking about her parents, nor did she want to live in the past anymore. She wasn't in Hoenn, and while she did miss home this region was going to be her new home.

What was your childhood like? How was school?

"My childhood…" Stella took a moment to think about what she wanted to say, it was hard to relive the memory of her parents leaving, but then she smiled as she thought about her grandparents. They took care of her for years and when they passed away she was devastated, but they never stopped believing in her, thus her decision to move to another region and start over. "Well it was quiet. I lived with my grandparents till they passed away last year. So I've been on my own ever since. As for my parents they went on a journey and that was it. School was alright, but It was boring at times too. Mmmm Fallarbor is kinda small so the friends I did make came and went once they went on their journeys." She said with a sigh as she asked the interviewer if there was anything else, the interviewer nodded mentioning pokemon, or favorite places in hoenn to go.

Stella perked up when the other questions appeared, while she missed her grandparents she knew they were watching over her. While her parents were, well, wherever they were she didn't care to think about it. "Oh, yes, I caught Blaze when I was just a kid, I think I was ummmm six or something? Well, it wasn't really me catching him, more so befriending him. He couldn't talk when we first met, but my grandma used to be a nurse a long time ago so it was easy to help him." She smiled as she thought about her adorable torchic, and how she'd always wanted a Pokemon, but her grandparents thought she was too young. But, once she found Blaze she couldn't let him go and the two of them had been together since, he inspired her to go further than before. "Then at thirteen we went on a journey for a little bit, but we didn't make it far in the hoenn league, heh.After we lost I decided to just stay home and take care of my grandparents, I'm glad I did. It gave me more time with them.." Stella could go on for hours about her grandparents, but she was ready to move on. Meanwhile the interviewer had enough information from her and looked at their next question.

How is your relationship with your family?

"So.So. My parents left on a journey years ago and my grandparents raised me. I'd say I haven't really spoken to my parents in a while, but If I could talk to my grandparents again I would every day just to say thank you." Stella bit her lip as she placed her hands behind her back, she hated that her grandparents weren't around anymore, and everyday she missed them. But since their passing she too decided to live for them and follow her dreams, they always made sure she was happy, and she knew even now they'd be happy for her. The interviewer poked about her parents, asking if they returned home, or simply kept traveling around. "I'm not really comfortable giving out that information, could we move on please?" Stella looked the other way while the interviewer begrudgingly agreed seeing it was a touchy subject.

What do you like to do for fun?

"Hmm where do I begin?" Stella smiled widely as she thought about all the times she spent growing up, some of the memories were blurry and others were vivid as ever. She wasn't sure what she wanted to share, but she thought any memory would be good for the question. She placed her hands back in front of her skirt as she brushed it off lightly, her smile never leaving as she answered the question. "I love to sit in hot springs and I am a great swimmer, oh and i love to take photos, and travel around. Mmmm let's see what else…?" She said while she placed one finger on her cheek thinking about it. "Umm I've got a scrapbook and that's all I can really think of for now. Do you need anything else?' Stella said as she tilted her head ever so slightly as the interviewer mentioned not needing anything.

What are your feelings on romance?

"Huh? Do you mind if we talk about something else?" Stella said as her eye contact dulled down to a somewhat emotionless expression. She wasn't interested in thinking about boys, or love, she wanted to explore the Pokemon world. Besides she'd never been in love before, and to say something about it now felt pointless to her. She sighed loudly as she waited for something else to come up. But the interviewer poked at her with their microphone to say something at least, for they wanted to know her stance regarding the topic. "I don't see how, or why you'd wanna know this especially since it's not important and has nothing to do with my trainer card. So, can we move on?" Stella said as she stood to the side with her hand on her hip, her body language neutral as she looked towards the doors.

What are your goals for the future? Short-term and long-term.

"I want to be the best for my Pokemon and myself." Stella said as she slightly shifted her body to look at the interviewer. She was getting tired of being here now and it was getting late into the afternoon. She liked to get up early and start training her pokemon, but with this in the way she was starting to see she shouldn't do more interviews. But, then again she did get some kind of recognition out of it, even if she wasn't one for cameras. "I'd also love to explore every region out there, I know there are tons of places I've yet to go." Stella said as she shifted her body language again, this time a bit more engaging than the last.

If you could be a Pokemon, what species or typing would you choose and why?

"A Torchic! It's my favorite Pokemon starter!" Stella said with glee as she thought about her Pokemon again, she loved her Torchic a great deal and it was always a Pokemon she wanted to have next to her. Now that she did she was able to set off and have fun, though she was a bit nervous about this new region she still wanted to try her hardest. "What about you? Any type of Pokemon you'd wanna be?" The interviewer paused for a moment and didn't think they'd get a question like that, though they didn't have a response at first, but after thinking about it they responded with Sceptile. Stella smiled and nodded knowing that it was a pretty great grass type, even though she wouldn't pick it herself it was still good. "I'd probably pick Charmander if I couldn't be a Torchic, or maybe a Flygon. I've always wanted to fly and be a pooowerful dragon!" She said as the interviewer nodded at her with excitement, but also noting that the interview was almost over.

What do Pokemon mean to you?

"Hmmm..that's a tough one." Stella said as she turned her body back to the interviewer she wasn't really sure what to say, but wanted to make it look as though she had an answer. She crossed her arms over her chest and shifted her foot weight to the right instead of the left, she was sure that there had to be an answer, but she was tired of speaking for the day. She wasn't someone who liked to talk for too long, she enjoyed battling more and wanted her skills to speak for themselves though it was impossible to battle the interviewer, she felt that stalling for time was pointless with the interview ending soon. "Well, I...think that's up to the person with the Pokemon. I think Pokemon are wonderful creatures to have as friends, and they should be taken care of. But what exactly they mean to me...mmmm I couldn't really say, ya know. It's simply up to you to decide I think?" She said as she tilted her head with a half smile as the interviewer nodded at her response.

Anything else you'd like to tell us about before you go?

"Follow your dreams and grow!" She said with a thumbs up as she stretched to the ceiling as far as possible. It was time for her to go and time had already moved on far past her training time, but she would have to make up for it. She smiled at the interviewer who nodded at her perfect response. She wanted to be the best trainer and that first, no that hundredth step would be to do her best all over again and keep fighting on. She loved her Pokemon and knew that both of them would go far, even if she messed up it was going to be fun! "Thank you for the interview. It was actually fun! See ya around!" Stella shouted on her way out of the automatic doors of the Pokemon Center.


Appearance



Height


5'3" / 160cm





Build


Athletic





Hair Color


Indigo, Blue Highlights





Eye Color


Forest Green




Stella got her height from her mother, standing at a firm 5"3 even though some claim she is much shorter than that and pick on her for it. She is a tad insecure about her height, always getting mad at others who wanna bring it up, but she is also proud of her height as well. She is happy to be alive and able to walk and run, so when it comes to her athletic build she keeps it up well. Her arms and legs are strong, her muscles are firm but not too noticeable at all. She has a round face and sharp chin, strong jawline and small ears. Her nose is thin and her eyes are a forest green, while her bust is average for her age. Usually her outfits are red due to it being her favorite color, she loves to wear browns, blue or yellows as well. She likes to stick to boots, belts, jackets, vest, and keeps her hair up in a ponytail held together with a yellow ribbon.






Aura


Fiery Orange, medium sized and moves like lightning.
Skills, Abilities, & Notoriety
STANDARD SKILLS

POWER SKILLS

Abilities

N/A

NOTORIETY

Other Notes
The Pokespeech in my app is simply for fun. Torchic is not speaking like a human, but I simply translated what he would say in Torchic speak instead of just saying Toorchic the whole time.
Pokemon
Starter Option

Original Trio Option A, Torchic, Male & Ultimate Challenge Hatch Day, Option A

Gem Spending?

Yes, 5 Gems for Mystery Egg/Second Starter

OOC Info



Played By


Oracle







Face Claim


Serena from Yugioh Arc-V