Post by Victor Mars on Jan 16, 2020 14:17:47 GMT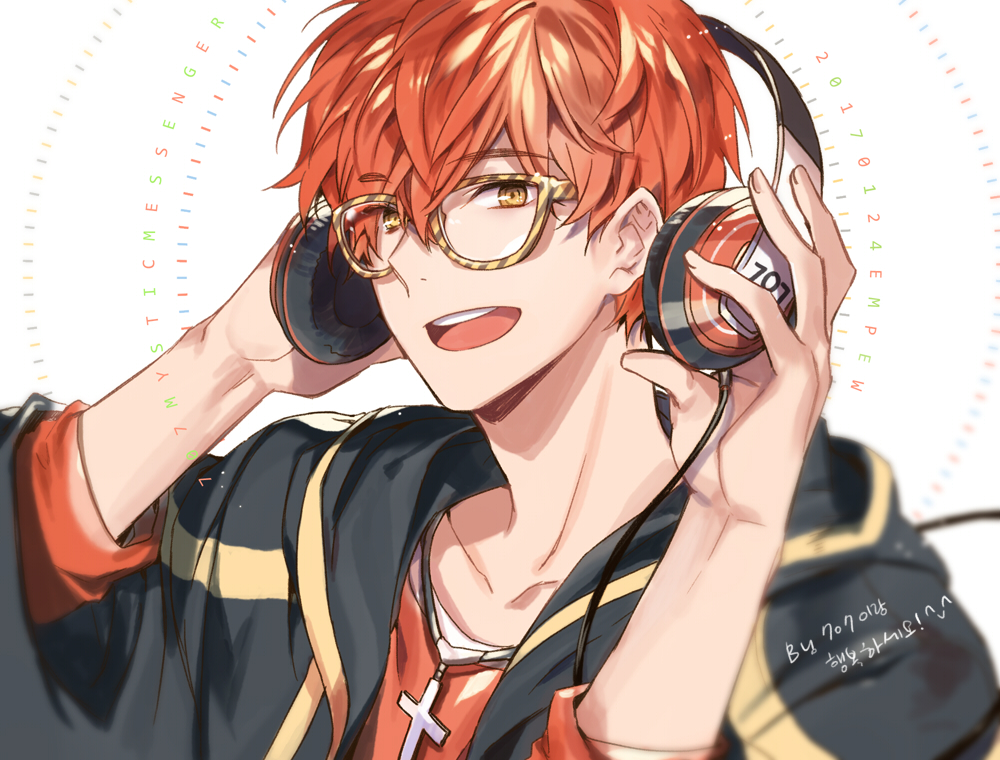 Victor Mars



Age

22




Birthday

September 17, 1997




Gender

Male




Pronouns

He/Him




Orientation

Pansexual




Faction

Chimera




Class

Researcher




Rank

Beaker Washer




Occupation

Beta Tester/Hacktivist




Hometown

Wyndon, Galar




Current Residence

Ash City






Tell us a little about yourself. How would you describe yourself?

Victor pecked at his phone with his slender fingers only half listening to the interviewer across the table. When they cleared their throat and repeated the question the male glanced up slightly startled. "Oh! My apologies! I didn't hear you, got a bit wrapped up with a few things here..." The withering look from the interviewer made Victor blink and he tucked away his phone then scratched the back of his neck sheepishly.

"Er, right, very rude of me, terribly sorry mate. Um... what was the question again?" He inquired with a feeble grin as the interviewer repeated it once more. "Ah right, of course. You want to know more about me. Jolly good." Victor gave a small chuckle and nodded, his mop of red hair flying with each movement.

"Well, um, I suppose you can tell I'm rather easily distracted now and again. But anyway, I'm Victor. I'm from Galar originally, brought up in Wyndon. I like to think of myself as a good guy, trying to make a difference in this world. I've always been pretty handy with technology and have a strong interest in studying the Ultra Beasts." He added unsure how much more to say, he could easily start rambling if the interviewer let him.

Why are you interested in the class you've chosen?

Victor raised a brow and adjusted his colorful eyeglasses as he considered the question. "Well I mean it seems rather obvious, me being a researcher... though I guess that would be only to myself. As I said, I've a way with tech and have been quite fascinated with the Ultra Beasts for quite sometime. I was a teenager during the initial attacks and ever since I've been trying to understand them." He tone took a more serious turn and the male leaned forward in his seat looking quite enthused by the subject. Victor began gesticulating with his hands as he spoke.

"You see I want to know why? Why did they come? Why did they attack? Did they intend to be so destructive? I believe the Ultra Beasts have been greatly misunderstood. These are creatures of terrific and unique power that shouldn't be simply feared and forgotten. I hope very much to one day perhaps meet an Ultra Beast." The male elaborated nodding along to himself. He could see from the interviewer's widened eyes that this wasn't exactly the sort of thing they were comfortable hearing. Victor coughed then shrugged.

"So yea, researcher, seems appropriate."

Why are you interested in training in Arciel? Why not another region?

Here Victor leaned back a bit and steepled his fingers while pursing his lips and considering the question. "Why Arciel? True the Ultra Beast attack was nearly universal and one could likely study them in any region. Yet there's something about Arciel that has a certain...", the ginger male hesitated as he searched for words, "untapped potential? Plus there is the tournament offering up the beast ball, a very tempting and really quite interesting development. One could find it to be a perfect opportunity for getting the chance at obtaining an Ultra Beast for one's own? Not many other regions provide that sort of challenge you know."

The male raised a brow and shrugged again. To him it seemed pretty obvious, if you're going to go around announcing to the world that 'hey here's a beast ball up for grabs', one shouldn't be surprised when people come wanting a shot at that ball. Of course, there were likely easier ways to get ones hand on such a prize, especially if one could find a way around the tournament and get their hands on the development data themselves. Why go through all the fuss of a tournament anyway?

What do you consider your best attributes? They can be physical, mental, social, or anything else.

A smile sprang to the male's lips and he clasped his hands, now sitting upright. "Ah delightful, here's a question one can always enjoy answering." Victor winked at the interviewer and continued. "Now let me see, best attributes. You know there are just so many."

He mused a moment as he gathered his thoughts. "Well as you can tell I'm obviously quite intelligent." Victor grinned at his own comment looking rather pleased with himself. "And of course I've already mentioned my technical prowess. And if I do say so myself, I'm quite attractive wouldn't you say?" He smirked and raised a brow.

"Ah but you probably aren't supposed to judge things like that. I'm also quite the social butterfly, I just love getting to know people. You know most folks think us 'computer nerds' are shy, introverted creatures with no social life but I've never not been one to speak up when it's necessary." He added tapping the table a little for emphasis. Victor grinned then sat back head cocked to one side.

"I suppose that's the tip of the iceberg. I could continue but I'm sure you can tell just from looking at me that I'm pretty terrific all around."

What do you consider your worst attributes? Be honest, now!

The interviewer now posed a question that made Victor's face fall. The male sighed and ran his fingers through his hair now looking glum. "Now did you really have to go and spoil the mood by asking that?" He sighed then chewed his lower lip.

"Ah well, I suppose everyone has a few flaws. As they say, nobody's perfect." Victor turned his golden eyes toward the ceiling as he thought on what his possible flaws could be. "Seems I've already mentioned one, easily distracted, you know, when one gets caught up in something it's hard to tear oneself away from it. Hyperfocus, it's not necessarily a bad thing right? I mean, sure you might forget a dinner date or maybe an anniversary, but you understand right?" He shifted in his chair and now looked at the interviewer who seemed indifferent to his query.

Victor sighed but continued. "Well I suppose some people have said I'm a little conceited. I can't imagine why. I mean really, they're probably just jealous." Again he looked for some affirmation from the interviewer but they were looking down at their notes and avoiding his gaze. Victor huffed and pulled out his phone again.

"Really though, that's about it, I mean I suppose I'm not the most agile or physically capable person but who needs brawn when you've got brain?" He stated while thumbing through the phone once more his attention shifting from the interview to the phone which was currently running a program attempting to breach the facilities wifi.

What was your childhood like? How was school?

"Hmm?" Victor's focus shifted briefly from the phone at the next question. He blinked as he had to reprocess what the question was. "Oh right, childhood. Huh, well I come from a fairly affluent background. Went to the finest boarding school in Wyndon. And despite my shining personality, well, children can be stupid and cruel."

Victor paused looking distant and refocused on the phone adding a new line of code. The interviewer cleared their throat again obviously unsure if that was all. "One must persevere and while I may not have had a plethora of friends I had my mates online I could turn to plus as one gets older and more attractive things start to change. I was always a straight A student thus school itself, the teachers, headmaster, etc were all quite pleasant. But it's all in the past right? No reason dwelling on it." Victor went quiet once more it now being much more apparent that that was all he wished to share on the subject.

How is your relationship with your family?

Here the male smirked a little, and perked up. "Ah well you know how family is. My parents had three children, myself, my older brother and my baby sister." Victor wetted his lips and briefly glanced at his phone. "As I mentioned my folks are rather affluent, they gave us kids everything we could ever desire, except their time. Father was too buys going to board meetings and mother too involved in her own research projects to do much more than provide us with a nanny and boarding school when we were old enough."

The male sighed a little, a sad smile brushing his lips. "I don't really blame them for being busy, us kids understood and we had more than enough things to keep ourselves preoccupied. My big brother was the natural caretaker. He did everything in his power to protect and care for us kids. I believe he's currently studying to be a medical professional of some sort. My little sister however was the family diva. She loves attention and always demanded it from everybody. She dreams of being on stage with millions of adoring fans world wide. Of course I was the black sheep of the family so to speak, taking after my mother but also not wanting to follow in her particular line of study. She's part of the team fixated on studying Dynamaxing and the like."

Victor explained with a smirk as he tapped at his phone once more. "We've all gone our separate ways since childhood. I'm not entirely sure what lies in store for my family now. All I know is what my own path forward is."

What do you like to do for fun?

Victor glanced up and raised both brows looking a little surprised. "Well now that's a fun question isn't it? What sort of interview did you lot say this was again?" He smirked though the interviewer just looked bored. "Ah you're no fun. Well let's see..."

His golden gaze scanned his phone for a moment as he thought. "I suppose it comes as no surprise that I enjoy video games. Makes sense for a techy person like myself yes? And well I enjoy online chats, reading blogs, watching online videos, that sort of thing. The world wide web is major source of information and entertainment. People would often say I spend way too much time with a phone or tablet in hand."

He chuckled as he scrolled through his phone double checking a few lines of code. He gave the interviewer a sideways glance and a wry smirk.

What are your feelings on romance?

Victor tapped the phone again then caught the interviewer's gaze and gave a broad grin. "Now you see I knew this interview was more than you said." He now leaned forward and reached for the interviewer's hand. They pulled away giving Victor a scowl.

"Oh come now, all this 'getting to know you' and you claim to not be interested? I know better than that." He wagged a finger then winked but shrugged. "Ah well, play hard to get now but I'm sure we'll be in bed together by the end of the night."

The interviewer looked extremely uncomfortable while Victor laughed. "See love, I'm not the picky sort. I like everybody. I enjoy being loved and loving others. There's no need for all this stress or complication, just have fun." He winked and ran a hand through his the mop of ginger hair. The interviewer looked sour as they continued.

What are your goals for the future? Short-term and long-term.

Victor sighed a little disappointed their banter had passed and the interviewer had changed the subject. "Okay fine, be that way. Goals? Seems like I've already told you that." He raised a brow then shrugged. "Ultra Beasts love, I want to meet one." Victor emphasised making the interviewer look even more uncomfortable.

"But I suppose one should have more than just one singular, presumably unachievable goal. So I suppose until I achieve that goal I'll work to rise in the ranks of the researcher world, become a well respected, world class scientist. I also wouldn't mind learning how to make those fancy beast balls." He added before turning to his phone once more, just a little bit more now.

If you could be a Pokemon, what species or typing would you choose and why?

The ginger laughed and shook his head. "Well if you haven't been paying attention until now, Ultra Beast. I'd be an ultra beast, a being of raw power and otherworldly wonder, something that makes people pay attention, that commands respect... or fear."

The interviewer raised a brow and Victor just gazed back at them with an innocent look.

What do Pokemon mean to you?

Victor pursed his lips then drummed his fingers on the table for a moment. "Well I'm not sure. Pokemon were always more of a status symbol in our house. Sure we all studied the basics in school and I've learned more than my fair share from my mother's research. We had a few pokemon companions around the house but never really one that you'd call 'mine'. I suppose pokemon to me are a curiosity, something that's part of this world but not. Creatures to be studied but also to enjoy, and respect. Beings that can be used to harm or to help." He mused, he wasn't one who'd ever harm a pokemon, though his interest lied more in the Ultra Beasts rather than your typical pokemon.

Anything else you'd like to tell us about before you go?

Victor tapped a few more times on his phone then grinned to himself, a touch of malice in his look. He'd managed it, gotten into their database. The male downloaded a few key files before standing up and nodding to the interviewer. "Ah nope, I believe I've said all I've needed to say and gotten what I came for. It's been a pleasure though love. I do hope we get the chance to meet again." He winked then stepped briskly out of the room.


Appearance



Height


6'02" // 188cm





Build


Thin, lean





Hair Color


Ginger





Eye Color


Golden




Victor is quite the tall, lean, slender sort. His most eye catching features are his brilliant mop of unruly ginger hair and his striking and unusual golden eyes which are typically hidden behind colorful, two-toned eyewear. Much of his attire is simple, comfortable fitting things that gives him a little of the appearance of having just rolled out of bed. Victor doesn't worry much about his clothing and at first glance doesn't look much like a researcher beyond the stereotypical slim build and glasses. Not being the athletic sort he hasn't obtained any significant scars and such as he doesn't spend much time outdoors. His complexion is on the pale side due to not getting much in the way of sunshine. Victor is almost always seen with some technological device on his person, phone, tablet, laptop, whatever.




Aura


Victor's aura is vibrant and full of energy. Almost all hues of red, orange and pink mix together in a bright, bouncing flame that wraps itself all around the male. Yellow also blends itself within the reddish hues.
Skills, Abilities, & Notoriety
STANDARD SKILLS

POWER SKILLS

Abilities

N/A

NOTORIETY

Other Notes
Victor is quite obsessed with Ultra Beasts almost to the point of worshiping them. He casts his lot in with Chimera due to a strong desire to see the Ultra Beasts brought back and their power harnessed and controlled in a way that he believes can make life better for everyone. He has a strong belief that the whole incident was a misunderstanding that the Ultra Beasts hold the key to knowledge of worlds beyond this one and that they shouldn't be simply dismissed, feared or forgotten. He seeks to learn how the Beast Ball came about using his hacking skills to discover the plans that created the ball and figure out how to make more.

Pokemon
Starter Option

Ultimate Challenge - Hatch Day, Option A

OOC Info



Played By


Jance







Face Claim


707/Choi Saeyoung from Mystic Messenger