Post by Agate Valyn on May 1, 2020 4:58:42 GMT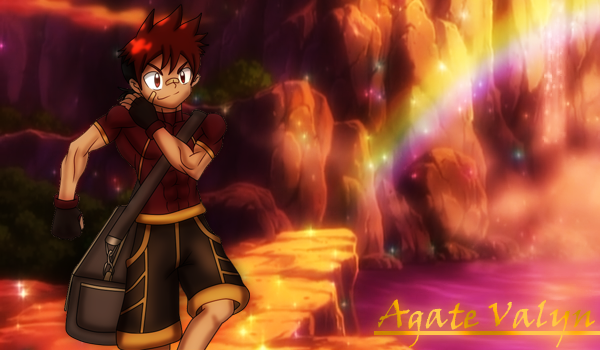 Agate Valyn



Age

14




Birthday

May 17th 2006




Gender

Male




Pronouns

He/Him




Orientation

...A bit too early?




Faction

Citizen




Class

Explorer




Rank

Backyard Adventurer




Occupation

Farmboy




Hometown

Unova

Current Residence

Fuji Town






Tell us a little about yourself. How would you describe yourself?

Hmmmm, how I describe myself huh... I would say I'm an adventurer! I really love seeing new things, I love to explore places! However, I'm not quite a traveler. I prefer to explore region where I am living in rather than the world. Gotta start small you know? If you don't know your surrounding, how would you know what's going on in your world? Plus, having place to return home to feels nice!

...If you ask me about my own personality though... I'd describe myself as an active guy who just want to befriend pretty much anyone? Many said that I'm hyper, but I'm pretty much just excited to share what I'm passionate about you know? If you share things you love, don't your eyes also shine in different way than you normally do? Eh, at least that's pretty much it to me anyway.

Why are you interested in the class you've chosen?

I love... I reiterate, I LOVE mysterious objects. Gems, fragments of fossils, anything like that, I really love them! Plus, I just love going somewhere, for whatever reason, and suddenly bam, something going on! Something that make me stop and want to get myself invested! It's just so cool isn't it!

But eh. You know what? There's a good plus being an explorer. Admittedly, it's less than noble to many but... my family is in good amount of debt, so I'm trying to clear some of it in my own way. I'm hoping I struck some great story or event that could lead me to a great treasure! That way I can pay that debt off!

...What? Uh, you can laugh, sure, that's fine. Don't worry.

Why are you interested in training in Arciel? Why not another region?

Well it doesn't have to be Arciel per se, but my parents happened to get a house and farmfield from Uncle Benny... no, I haven't met him. Dad doesn't talk about him all that much but they're close it seems. They just never met with one another. I dunno why. But either way, poor Uncle Benny passed away a year ago apparently... and well... we happened to get this farmfield and house in his will, but... he didn't tell Dad that he apparently also got quite the debt... so that debt is basically ours...

Yeah, that's how it is basically. I'm stuck here, not that I mind. It's good place in here.

What do you consider your best attributes? They can be physical, mental, social, or anything else.

Oh, oh, if I have to say, I think I'm good at being positive! There's a lot of thing that you only can see whenever you're positive, you know! If you're pessimist and only look at the ground, you'll often miss the big point! That's why I think it's the best of my quality.

That aside, I'm pretty strong for my age. My sis is physically a bit on the weaker side, see. She got green thumb, but her stamina is... ahah. Well, thanks to that I guess I'm a lot stronger than kids of my age! I'm pretty durable too!

What do you consider your worst attributes? Be honest, now!

Ahehe, erm, how to say... This is embarrassing but I don't think I can stay still. I tend to get really sleepy whenever someone talk miles... I mean, I know it's bad to not pay attention when someone is talking important thing, but I can't help it! When I get sleepy, I get sleepy! Uh and... uh... I think I'm bad with Ghosts ahahah... ah... I think I need to get some Dark Type Pokemons...

What was your childhood like? How was school?

My childhood? Well, it's pretty good, I would say? Many kids of my age are pretty much the same like me. We don't really go to school, it's more like we're homeschooled on regular days. On sunday, we go to sunday school. We have to do chores in the farmfield, harvesting berries, things like that... We might not be the smartest compared to many kids out there, but at the very least I think we're close to our neighbors and our family.

How is your relationship with your family?

Really well, I think? What sort of question is that? I mean, I'm living with them, I still return home from times to times... I call them regularly, they call me regularly? I do have more freedom compared to other kids probably... probably... but it doesn't mean that my family doesn't care about me.

Dad is cool, Mom is loving, Sis is kind... what else is there to talk about? I mean... I could go miles about them if you want, but then again I don't think it's necessary... I love them a lot!

What do you like to do for fun?

Oh, now that's interesting! I do martial arts actually! I love mimicking what my Pokemons do! I think to know a lot about them, I must imagine what it's like to be like them. So I copied their action to see what sort of idea they have behind it, you know?

That aside, I love working out. Sometimes my family get a bit worried I pushed myself a lot, but eh, let it be!

What are your feelings on romance?

W-w-what sort of question is that!? Um, I think it's a bit too early for me. I *am* interested in it, but then again why would it matters? I mean... I mean... if there's a cute girl that's into me, I'd be happy, yeah... But then again I don't think it's important to me at the moment, alright? I'm too busy thinking what to do in the future...

what, I'm evading the question? Ugh, you're teasing me, aren't you...?

What are your goals for the future? Short-term and long-term.

I just want to pay off my family's debt that's the most important thing first and foremost. After that, I guess whatever happened, happens! I actually want to see any endemic species of Arciel... and... on top of that, I want to see relations of legendaries and this region! I want to see how they interact! I want to be the first one that found it!

If you could be a Pokemon, what species or typing would you choose and why?

Uoh, that's a hard question... uh... I guess Machop will be interesting! I mean, I wonder how does it feel to lift double or triple of your own weight? On top of that, if I became a Machoke or Machamp, ain't that belt function as a power limiter or something? What if I took it off? How strong would I be? It's interesting to experiment with the limit of what my body can do!

What do Pokemon mean to you?

They're friends... I think I'd love to have like minded friends who want to grow stronger together, finding new things together, going on adventure together... well, things like that! I think it's cool to have them around you know? I don't particularly think them as helper or anything... how to say... Just by existing I think they're helping us feeling at ease.

Anything else you'd like to tell us about before you go?

Naw, I think I'm done here. My legs are eager to go anyway!


Appearance



Height


4'9" / 145 cm





Build


Muscular




Hair Color


Reddish




Eye Color


Red




Agate is a solidly built farm boy with tanned complexion. His hair is parted into two groups. The longer ones are brighter red in complexion while shorter one are darker. He's short for kid of his age who comes from Unova, but makes it up with his musculature. An adventurer at heart, Agate's body is full of small cuts and scars from his adventuring hobby. He did not think too much of it, thinking it as some sort of medal of honor. Agate is often found wearing compression shirt, baggy pants and boots.

S


Aura


Agate's aura is golden with touch of sky blue, which would remind people of field of wheat and pleasant spring sky. It's wispy and silky and seem to looks "warm" rather than "hot". There's is a twinkle of light on the center, blinking like a beacon. It might represent his curiosity, or perhaps his budding ability to harness his own aura.
Skills, Abilities, & Notoriety
STANDARD SKILLS

POWER SKILLS

Abilities

Aura Sight (0) (Cost: 5)

NOTORIETY

Other Notes
Anything that didn't fit elsewhere in the bio that you feel like explaining or making note of.


Pokemon
Starter Option

Hard Mode A - Riolu (Male) (Nonshiny) (Brave)
Huge - Inner Focus
Egg Move: Sky Uppercut
OOC Info



Played By


Yuukz






Face Claim


Original Art by yours truly