Post by SG on Nov 3, 2019 18:03:18 GMT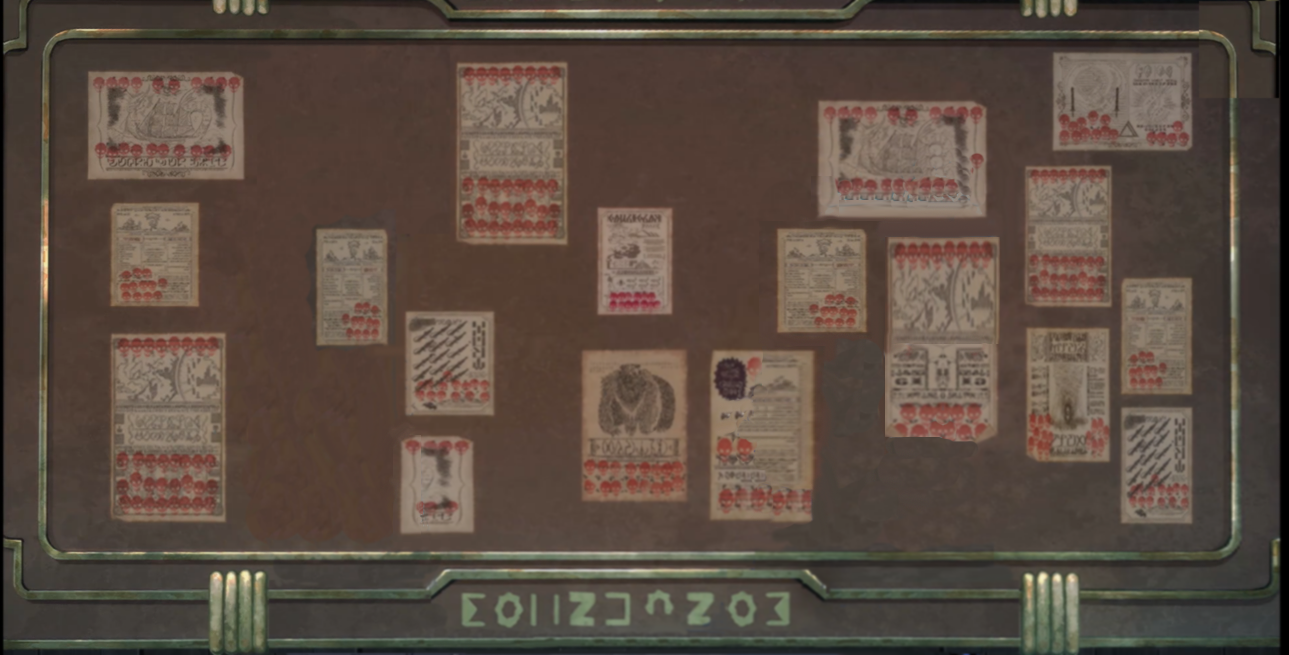 Quest Board
INTRODUCTION
Quests are somewhat similar to jobs, save that many of them are longer or more involved, although some are similar in length to an average job. They may involve a certain amount of luck, creativity, lots of dice rolling, etc. Some Quests are gated, requiring a certain amount of Reputation, Fame, or other criteria to attempt.
There are two different ways to start quests. Some more common ones are listed here on the Quest Board. However, you may also have Quest opportunities spawn in random threads, either by meeting a Questgiver NPC or by having a random event occur that unlocks a quest.
While quests do have monetary rewards, the rewards are usually more specialized than jobs, such as quests to increase certain skills or to teach Pokemon to carry a passenger, etc.
If you have any questions, don't hesitate to ask! We're always happy to help.
---
RULES
You can only have one active Quest from the Quest Board per character at a time. However, randomly spawned Quests from Questgivers or events are unlimited.

If you are doing a Quest Board Quest with another player and that player takes over two weeks to reply, you may begin a different Quest. If they come back before you finish the new one, you may continue to have multiple job threads of that category active, but may not start any new ones until all are complete or you've gone another two weeks without replies. If they are gone for over a month, you may continue the original one as a solo.


If a thread is inactive for two months, it will be considered abandoned. Rewards for abandoned threads depend on the quest.



Your first post in a Quest should be in-character, and include OOC notes that state what quest you are doing, who is participating, and any other notes of importance.


You must include your word count in each post in a Quest thread.



When you want to close a thread, simply say so in your OOC notes of your final post.



If you make any Skill rolls in your Quest posts, the first roll is always for skills and the second (and possibly later) roll(s) is always for the Quest, to avoid picking and choosing for more favorable results.



Be sure to read the Quest text carefully as Quests format varies much more than Jobs. Some may require multiple rolls in a single post, or multiple threads following a story line, or anything else you can imagine.




---
COMMON QUESTS
More Quests will be added in the near future. Please keep checking back!

Surf Training
Repeatable, Anyone | 1-2 people
1 post
Out in the Training Grounds, there is an area referred to as the Kiddie Pool. Despite its name, it varies in depth, with areas marked off to help you find the shallowest point that can accommodate the size of your Pokemon. It is also immensely broad, and has many obstacles set up, such as buoys to surf around, narrow marked lanes to squeeze through or practice speed in, and randomly generated waves to help you practice balance. Life jackets are provided at the pool entrance, and life guards monitor the whole area via camera systems, making this the safest place to teach your Pokemon to carry a passenger in the water.

In order for your Pokemon to be certified, you must score at least 100 points on the obstacle course or spend at least half an hour practicing.

Instructions
To start out, write at least 200 words in your thread, then use [ proll ] (no spaces). This is how many points you've scored so far; you are aiming for 100 total. Assuming you don't roll 100 on the first go, write 200 more words. (You can cheese this just a little if you went a bit over before, such as 220 the first time and 180 the second. Each section must be a minimum of 150 though, regardless of how far over your previous sections went.) Use proll again, and repeat this until you have either reached 1,000 words or your rolls add up to 100 or more.Once you have reached either goal, you succeed!

Notes: If you prefer, you may make separate posts for each section/roll, instead of putting it all in one post. This is recommended if doing the quest with two people. Also, Trainers and Coordinators only need a score of 80 or 800 words total as part of their class bonus. This means the final section is exempt from the 150 minimum for them.

You may NOT combine the Quest thread into normal training. You MAY, however, do multiple surf/fly quests in one thread, or do a training thread that ICly picks up right where a quest left off.

You will not receive rewards until you close the thread.


Location: The Training Grounds

Rewards: 150 pen, 3 Rare Candies, and the ability to ride the trained Pokemon on water routes.




---


Flight Training
Repeatable, Anyone | 1-2 people
1 post
Out in the Training Grounds, there is an area set up where trainers can practice flying on their Pokemon. There are poles to weave between, walls to fly over and around, a small maze to navigate, hoops to swoop through, and more. But most importantly, the area is gated off and carefully monitored, with the entire floor being made of big foam blocks to break your fall. Cameras also monitor the scene just in case of accidents, making this the safest place to learn to fly.

In order for your Pokemon to be certified, you must score at least 100 points on the obstacle course or spend at least half an hour practicing.

Instructions
To start out, write at least 200 words in your thread, then use [ proll ] (no spaces). This is how many points you've scored so far; you are aiming for 100 total. Assuming you don't roll 100 on the first go, write 200 more words. (You can cheese this just a little if you went a bit over before, such as 220 the first time and 180 the second. Each section must be a minimum of 150 though, regardless of how far over your previous sections went.) Use proll again, and repeat this until you have either reached 1,000 words or your rolls add up to 100 or more.Once you have reached either goal, you succeed!

Notes: If you prefer, you may make separate posts for each section/roll, instead of putting it all in one post. This is recommended if doing the quest with two people. Also, Trainers and Coordinators only need a score of 80 or 800 words total as part of their class bonus. This means the final section is exempt from the 150 minimum for them.

You may NOT combine the Quest thread into normal training. You MAY, however, do multiple surf/fly quests in one thread, or do a training thread that ICly picks up right where a quest left off.

You will not receive rewards until you close the thread.


Location: The Training Grounds

Rewards: 150 pen, 3 Rare Candies, and the ability to fly on the back of the trained Pokemon.




---


An Elusive Recipient
Once per character, Anyone | 1-2 people
5-10 posts
An urgent letter needs delivering to a traveling trainer, but they haven't come back into town in quite some while. Since you're traveling, too, perhaps you can go look for them? In fact, take this bicycle to help you search faster.

Instructions
Each post must be a minimum of 150 words to qualify. At the end of each post, do a [ proll ] (no spaces), then do a Mod Call to receive a random event to react to. You must react to the random event before continuing on, and roll again at the end of each post, etc. You may find the recipient either when your total combined dice rolls equal at least 200 and you have at least 5 posts, or at the end of your 10th post if you haven't reached 200 by then.

You will not receive rewards until you close the thread.


Location: Any land Route of your choice

Rewards: 200 pen, 5 Rare Candies, and a free Bicycle.




---


Exploration 101
Once, Anyone without a Mining Kit | 1-2 people
5-10 posts, 10+ posts until success
What's all this mining business, then? Well, in an odd shack in the wilderness, you've found someone to help you with just that. They're an enthusiast and they're ready to help you learn the business of mining. There is, of course, a mineshaft close-by for you to learn the tricks of the trade.

Impress your mentor thoroughly with your ability to learn and you will be gifted with an Mining Kit!

Instructions
Each post must be a minimum of 150 words to qualify. At the end of each post, do a [ proll ] (no spaces), then do a Mod Call to receive a random event to react to. You must react to the random event before continuing on, and roll again at the end of each post, etc.

Every dice roll above 50 will also earn you an item found in mining, and once you find at least 3 items and reached 5 posts minimum (or 10 maximum if you've already found 3 items), you can finish the thread and earn your rewards.
Your skill in Mining will help you to succeed in rolls.



Location: Any land-based location of your choice excluding towns/cities and Wild Areas.

Rewards: All items found during the thread, 5 Rare Candies, and a free Mining Kit

Submitted by:

Lynnette Aria




---


Life Choices
Repeatable [no more than once every 3 months], Anyone | 1 person
10+ posts
When you left home, you already had a goal in mind, an idea as to how your life would go. However, things don't always work out the way you planned. You think, maybe it's time to take your life in another direction. Perhaps you should give something else a try.

Instructions
Each post must be a minimum of 200 words. During each post, you must do a mod call to receive a random event to react to. Your posts should involve your character trying out other classes other than your current class. You can time skip from one class to the next. To finish the quest, you must have at least tried out 5 different classes other than your own (including dealing with two random events for each class).



Location: Anywhere

Rewards: A change in character class of your choice (any starting items granted from that new class are not included, but new Rangers and Nurses will get a new Lv5 Pokemon). Note: Ranks and reputation will be lost upon change, so it's best done with a Rank 1 character, but this is not mandatory.

Submitted by:

Marley Hyde




---


We Can Build It!
Once, Anyone | 1-2 people
5+ posts
The Outpost Stop. A lonely gas station in the desert. Travelers stop by on their journeys.

Here you will find a small bar and restaurant, as well as a machine shop next door. The proprietor, "Granny," is a crusty Orrean mechanic who has little patience for visitors, but if you ask nicely and are willing to do her a favor in return, she has the tools and the know-how to give your Bicycle some mechanical upgrades...

Instructions
Each post must be a minimum of 150 words to qualify. At the end of each post, do a [ proll ] (no spaces), then do a Mod Call to receive a random event to react to. You must react to the random event before continuing on, and roll again at the end of each post, etc. (Mod note: Random events may include: helping Granny build the bike in her shop, fetching food/water for Granny from the nearby bar/restaurant, venturing out into the desert for supplies, or completely unrelated errands.) You finish the quest when your total combined dice rolls have reached 300 and you have at least 5 posts.

Notes: You must have a Bicycle to begin this Quest.


Location: Route 12

Rewards: 300 pen, 3 Rare Candies, and your Bicycle becomes a Hoverbike.
A Hoverbike has all the normal features of a Bicycle, in addition to the following:
-You can ride the Hoverbike over the Endless Overpass instead of a Ride Pokemon.
-You can carry up to one human passenger in the side car, who will receive the Bicycle travel time reduction. (Or a human-sized Pokemon, or two smaller Pokemon for flavor, as you wish.)

Submitted by:

Kaisei Nebula