Post by Koa Leilani on Apr 4, 2020 22:40:16 GMT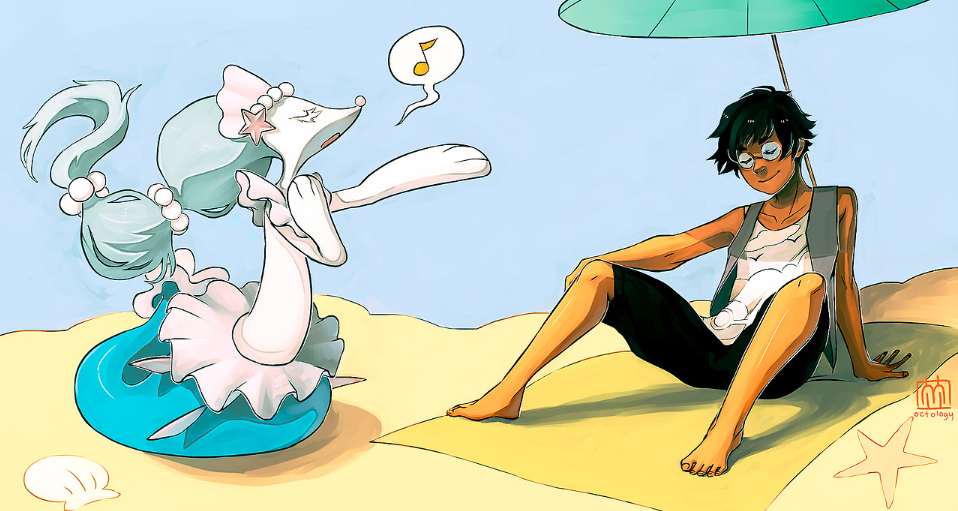 Koa Leilani



Age

21




Birthday

August 26, 1998




Gender

Male




Pronouns

He/Him




Orientation

Heterosexual




Faction

Citizen




Class

Ranger




Rank

Ranger Student





Occupation

Writer (Hobby)




Hometown

Heahea City, Alola




Current Residence

Traveling






Personality


Koa is an extremely friendly individual who enjoys helping others and making the world a better place through his actions. He's soft-spoken, approachable, and never judges another person based on first impressions. Though he struggles with severe self-confidence issues, he believes in the best in others unconditionally and will do everything he can to encourage them.

He's a naturally curious individual and tries his hand at new things when they present themselves to him, but might need a bit of a push to continue on with it. Pokemon training, for example, is new to him, and he understands that to be a ranger he will have to push himself to be a better trainer. Despite his worries, he loves Pokemon and views his team as a family. One way to anger Koa is to mistreat Pokemon in any way or view them as any less than partners and companions.

During his spare time, Koa enjoys writing of any kind. Short fiction, poetry, recounting recent events. It's calming to him and he claims it helps keep him on track.




History


Koa's early life was rather uneventful, as he grew up as the only child of a family living in Heahea City. He spent most of his time with his mother, as his father was an environmentalist for the Aether Foundation and would oftentimes be gone for extended trips abroad for his work. He still got along well with his father when he was around, however.


Unlike most kids, Koa didn't participate in the Island Challenge due to his crippling fear of failure. This led to some others his age to mock him, calling him a coward, which only furthered his self-doubts and fears. As he grew older, he fell in with Team Skull, as he thought they were full of kindred spirits. For a while, everything was fine. He had a group of friends he could hang out with and they wouldn't judge him. However, he felt betrayed when they started acting like thugs around him, bullying people on their Island Challenges and overall being a nuisance. After a while, enough was enough and he quit the team.

Once again lost without a clear goal, his mother suggested he volunteer at the Pokemon Center, so he did. During his work at the Pokemon Center, the Ultra Beast disaster occurred. He cared for and aided Pokemon being brought in, including an injured Primarina and its child. During this stressful period, Koa discovered that he had the ability to manipulate Aura. This instinct drove him to try and heal the Primarina. Tragically, the Primarina passed away as his power wasn't strong enough to heal its injuries. Heartbroken, Koa cared for its child throughout the disaster. Once the Ultra Beasts were repelled, he was given the option to raise the Popplio. While he was taken aback by the offer, he accepted.

The Ultra Beast attack had a profound effect on Koa. He felt like there was more he could do for the world and other people. With Alola more or less secure, he made a decision to move to Arciel and train to be a ranger so he could better protect others in the event of another disaster. While he still struggles with how own sense of worth, he wants to better himself and be the ideal hero he thinks he can be.




Goals


Long Term: To better himself as a trainer, protector, and person.

Short Term: Get the team of Pokemon he never had a chance to growing up.

Learn more about the abilities he's seemingly born with.
Appearance



Height


6'4" / 195cm





Build


Slim/Athletic




Hair Color


Black





Eye Color


Blue




Koa is tall and somewhat imposing because of it, though his relaxed, easy-going posture alleviates that somewhat. His medium-length black hair is usually messy and windswept, though he tries his best to keep it at least presentable when talking to others. His skin is a deep tan color, both from natural tones and from spending a lot of time outdoors. His eyes are aqua blue and he often has a gentle gaze to his expression which makes him a little easier to talk to.

Koa usually wears black shorts, a white sleeveless shirt with a sky theme pattern with a pokeball symbol on it. He also has a grey jacket, a holdover from his Team Skull days. He's often seen wearing a pair of blue shades, which were a gift from his father.

Koa also has a Team Skull tattoo on his right hand, something he regrets somewhat.




Aura


Flowing like the ocean's waves around his body, Koa's aura is blue that fades into white.
Skills, Abilities, & Notoriety
STANDARD SKILLS

Performance
(Storytelling)

5
POWER SKILLS

Abilities

Aura Channeling (Cost: 15)
Aura Sight (Cost: 5)
NOTORIETY

Other Notes
Pokemon
Starter Option

Original Trio - Option A: F Popplio + Ranger Starter

OOC Info



Played By


Connor






Face Claim


Koa Leilani drawn by Octology